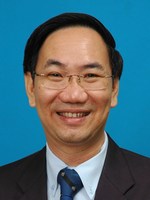 It is with great pleasure that I pen this foreword for the UTAR R&D Annual Report 2014.

As UTAR forges ahead with the Strategic 10-Year Plan and the completion of our City Campus in Sungai Long, more positive changes are anticipated ahead, especially after the consolidation of our Klang Valley campuses in Sungai Long where the integration of resources, facilities and services will lead to more efficiency and better networking.

UTAR will continue to focus on excellence in research and development and enhance support for both staff and student to progress further to ensure that UTAR is on the right course to becoming a premier university of teaching and research excellence. The new Mary Kuok Library in our City Campus will provide the required resources to support this initiative.

The university has achieved rapid growth over the years and UTAR now has more than 24,000 students and an alumni base of more than 38,000. The university will continue with its collaborations with more than 180 local and foreign partners to provide the required training and experience for our staff and students in addition to the knowledge exchange that comes with research project collaborations.

I am delighted to provide the following highlights in UTAR R&D Annual Report 2014:


The Centre for Disaster Risk Reduction was added in 2014 making a total of 27 research centres.
Cumulative internal research funds awarded totalled RM27.83 million as of 31 December 2014, an increase of 24 percent since 2013.
Cumulative external research funds solicited as of 31 December 2014 amounted to RM35.71 million, an increase of 22% since 2013.
Scholastic articles cited in Scopus rose from 1598 in 2013 to 1737 in 2014 and consequently the cumulative number of citations increased from 4422 in 2013 to 6159 in 2014.
The cumulative number of publications accepted by the Thomson Reuters Web of Science databases increased from 872 in 2013 to 1,085 in 2014.
Citations in the Thomson Reuters Web of Science increased from 1,000 in 2013 to 1,138 in 2014.
Awards received by staff in 2014 include:

Four of its academics were appointed as Co-Principal Investigators (CoPIs) for the 2014 Presidents' Forum of Southeast and South Asia and Taiwan Universities (SATU) Research Scheme which is hosted annually by National Cheng Kung University (NCKU) in Taiwan;
Two research teams clinched a silver award each in the environmental and renewable energy category in the 25th International Invention, Innovation & Technology Exhibition (ITEX);
Faculty of Arts and Social Science (FAS) Language and Linguistic Department Lecturer was awarded the Asian Graduate Student Fellowships 2014 based in Asia Research Institute, National University of Singapore (NUS);
Three UTAR researchers received the Malaysia Toray Science Foundation (MTSF) Science and Technology Research Grants (STRG);
Lee Kong Chian Faculty of Engineering and Science (LKCFES) Ir Prof. Goi Bok Min received the Academy of Science, Malaysia (ASM) 2014 Top Research Scientists Malaysia (TRSM) award.
The above highlights are some of the key indicators to show that the university continues to attain greater heights through its R&D and Commercialisation activities.

As UTAR forges ahead with progress, the university plans to set up a new teaching hospital in Kampar that will not only provide an excellent research, teaching and clinical training hub for our medical students but also provide medical services to the community.

The years ahead will be fraught with challenges but the university will continue with its commitment towards research excellence and continue to support R & D activities that will help train our students and staff to be better and be recognized as leaders in their field of study.

With warm regards,
Ir. Prof. Academician Dato. Dr. Chuah Hean Teik
University Tunku Abdul Rahman